First page of the
Vimanas
archive
Posted by vaimanika_admin on February 8, 2020
with Comments Closed
as
ancident indian aircraft
,
call for papers
,
Indian Technology
,
interna conference
,
International Academy of Samskrit Research
,
Mercury vortex Engine
,
Shakuna Vimana
,
Sundara Vimana
,
technology
,
Vainamika Shastra
,
Vimanas
,
VIMANAS in sanskrit literature
,
Yantra Sarvasva
Manoj and Sai from Vaimanika.com have been recently working on major research break through. We are also thinking that everyone who had looked for the details from Rediscovery of Vaimanika Shastra have done one or the other investigation and moved ahead in the field of Vaimanika Shastra and related technologies.
I am hereby sharing the invite for all to submit the papers related to your research.
Below is the copy of the message from NIVS.
NIVS is an organisation founded in 2001 with the motto of promoting the knowledge of ancient Indian Sciences. Its aim is to spread, popularise and re-engineer the vast scientific knowledge hidden in Vedas.
NIVS has successfully organised 6 International Conferences on various horizons of Vedic Science and now heading towards organising 7th International Conference.

Main theme of 2020 Conference is "Ancient Indian Aircraft and Related Technologies". We are looking for active participation of scientist, Engineers, Researchers, Sanskrit scholars, Teachers, Students and public with great passion in Ancient Indian Science, related Aircraft and associated Technologies.It would be a wonderful platform that unifies all interested individuals to gather and unveil information which would be mutually beneficial.Enclosed brochure for more details.
Mohenjo Daro (lit. Mound of the Dead, Sindhi: موئن جو دڙو, pronounced), situated in the province of Sindh, Pakistan, was one of the largest settlements of the ancient Indus Valley Civilization. Mohenjo Daro was built around 2600 BC and and continued to exist till about 1800 BC. The ruins of the city were discovered in 1922 by Rakhaldas Bandyopadhyay, an officer of the Archaeological Survey of India. He was led to the mound by a Buddhist monk, who believed it to be a stupa. In the 1930s, massive excavations were conducted under the leadership of John Marshall, K. N. Dikshit, Ernest Mackay, and others.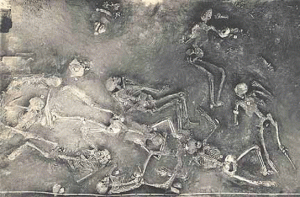 When excavations of Harappa and Mohenjo-Daro reached the street level, they discovered skeletons scattered about the cities, many holding hands and sprawling in the streets as if some instant, horrible doom had taken place. People were just lying, unburied, in the streets of what once happened to be a sprawling metropolis.  And these skeletons are thousands of years old, even by traditional archaeological standards. What could cause such a thing? Why did the bodies not decay or get eaten by wild animals? Furthermore, there is no apparent cause of a physically violent death. These skeletons are among the most radioactive ever found, on par with those at Hiroshima and Nagasaki. An ancient, heavily populated city in Pakistan seemed to have been instantly destroyed 2,000 years before Christ by an incredible explosion that could only been caused by an atomic bomb.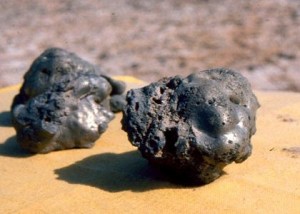 At one site, Soviet scholars found a skeleton which had a radioactive level 50 times greater than normal. Other cities have been found in northern India that show indications of explosions of great magnitude. One such city, found between the Ganges and the mountains of Rajmahal, seems to have been subjected to intense heat. Huge masses of walls and foundations of the ancient city are fused together, literally vitrified! And since there is no indication of a volcanic eruption at Mohenjo-Daro or at the other cities, the intense heat to melt clay vessels can only be explained by an atomic blast or some other unknown weapon. The cities were wiped out entirely.
The David Davenport Angle to Mohenjo Daro Extinction [Quotes adapted directly from his works]
An ancient, heavily populated city in Pakistan was instantly destroyed 2,000 years before Christ by an incredible explosion that could only been caused by an atomic bomb. That's the mind bogging conclusion of a British researcher, David Davenport, who spent 12 years studying ancient Hindu scripts and evidence at the site where the great city – Mohenjo Daro once stood. What was found at the site of Mohenjo Daro corresponds exactly to Nagasaki, declared Davenport, who published his startling findings in an amazing book, "Atomic Destruction in 2000 B.C.", Milan, Italy, 1979.
There was an epicenter about 50 yards wide where everything was crystallized, fused or melted, he said. Sixty yards from the center the bricks are melted on one side indicating a blast. the horrible, mysterious event of 4,000 years ago that leveled Mohenjo Daro was recorded in an old Hindu manuscript called the Mahabharata, "White hot smoke that was a thousand times brighter than the sun rose in infinite brilliance and reduced the city to ashes, the account reads. Water boiled…horses and war chariots were burned by the thousands.. . the corpses of the fallen were mutilated by the terrible heat so that they no longer looked like human beings…". The description concludes, "it was a terrible sight to see … never before have we seen such a ghastly weapon".
Based on his study of many ancient manuscripts, Davenport believes that the end of Mohenjo Daro was tied to a state of war between the Aryans and the Dravidian. Aryans controlled regions where space aliens were mining minerals and exploiting other natural resources, he believes. Because it was a Dravidian city, the aliens had agreed to destroy Mohenjo Daro on behalf of the Aryans. The aliens needed the friendship of the Aryan kings so that they could continue their prospecting and research, explained Davenport. The texts tell us that 30,000 inhabitants of the city were given seven days to get out – a clear warning that everything was about to be destroyed. Obviously, some people didn't heed the warning, because 44 human skeletons were found there in 1927, just a few years after the city was discovered.
All the skeletons were flattened to the ground. For example, a father, mother and child were found flattened in the street, face down and still holding hands. Interestingly, the ancient texts refer repeatedly to the Vimanas, or the flying cars, which fly under their own power, he added. Davenport's intriguing theory has met with intense interest in the scientific community. Nationally known expert William Sturm said, "the melting of bricks at Mohenjo Daro could not have been caused by a normal fire". Added professor Antonio Castellani, a space engineer in Rome, "it's possible that what happened at Mohenjo Daro was not a natural phenomenon".
David Davenport, who spent 12 years studying ancient Hindu scripts and evidence at the ancient site of Mohenjo-Daro, declared in 1996 that the city was instantly destroyed around 2,000 BC. The city ruins reveal the explosion's epicenter which measures 50 yards wide. At that location everything was crystallized, fused or melted. Sixty yards from the center the bricks were melted on one side indicating a blast… the horrible mysterious event of 4000 years ago was recorded in the Mahabharata.
How did man 2000 tears before Christ have the the knowledge of not only producing such high degree of heat, but also harness the power of such high temperatures? If Mohanjo Daro was destroyed by a nuclear catastrophe, who designed and manufactured them? If not then what was used to produce such heat that vitrified rock and bricks? What could be attributed to the high degree of  radioactive traces in the skeletons? How did all of them die, in one instant? Its up to us whether we need answers to these questions or continue to live in a sanitized view of the world, as provided to us by mainstream scholarship.