First page of the
Information
archive
Posted by vaimanika_admin on February 8, 2020
with Comments Closed
as
ancident indian aircraft
,
call for papers
,
Indian Technology
,
interna conference
,
International Academy of Samskrit Research
,
Mercury vortex Engine
,
Shakuna Vimana
,
Sundara Vimana
,
technology
,
Vainamika Shastra
,
Vimanas
,
VIMANAS in sanskrit literature
,
Yantra Sarvasva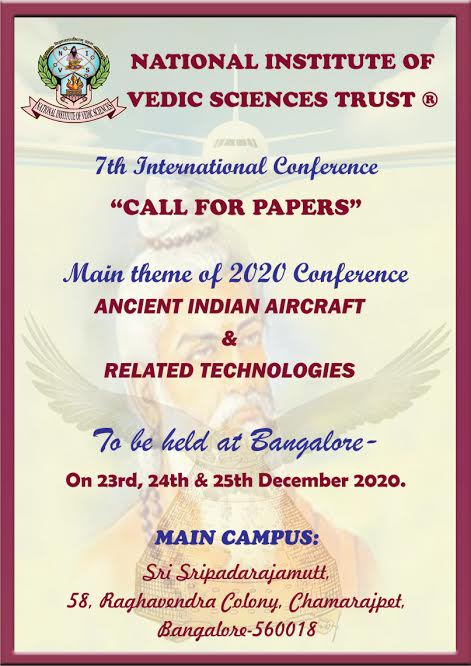 Manoj and Sai from Vaimanika.com have been recently working on major research break through. We are also thinking that everyone who had looked for the details from Rediscovery of Vaimanika Shastra have done one or the other investigation and moved ahead in the field of Vaimanika Shastra and related technologies.
I am hereby sharing the invite for all to submit the papers related to your research.
Below is the copy of the message from NIVS.
NIVS is an organisation founded in 2001 with the motto of promoting the knowledge of ancient Indian Sciences. Its aim is to spread, popularise and re-engineer the vast scientific knowledge hidden in Vedas.
NIVS has successfully organised 6 International Conferences on various horizons of Vedic Science and now heading towards organising 7th International Conference.

Main theme of 2020 Conference is "Ancient Indian Aircraft and Related Technologies". We are looking for active participation of scientist, Engineers, Researchers, Sanskrit scholars, Teachers, Students and public with great passion in Ancient Indian Science, related Aircraft and associated Technologies.It would be a wonderful platform that unifies all interested individuals to gather and unveil information which would be mutually beneficial.Enclosed brochure for more details.
There were many Rishis in the name of Bharadwaaja. Whom should we consider?
What is the authenticity?
How can we confirm which period Bharadwaja lived?
Do you think the language is too scientific?
There are many such questions that have been asked to us. We have approached Samskrit language experts to confirm. They did answer us the queries.
I will keep you waiting for the answers.
I had been off Vaimanika Shastra for quite some time, and consider that as sin now. I had not been following the websites and not even any new news about Vaimanika Shastra. Getting ourselves updated is one of the important thing. We had planned for Seminars, and additional RnDs on Vaimanika shastra. I have been […]
I have been working on and looking for custom Indian web URL. We might be one of the first ones to have .भारत site enabled, now our page could be easily accessible over: http://वैमानिकशास्त्रम्.भारत
Posted by vaimanika_admin on March 4, 2015
with No Comments
3D
,
3D Printing
,
3DPrinting
,
Aeronautics
,
Airbus
,
Amaero
,
Boeing
,
CSIRO
,
jet engine
,
Raytheon
Development hailed as a potential breakthrough in aircraft manufacture after university-CSIRO joint project prints two gas turbine engines Australian researchers have created the world's first 3D-printed jet engines, a breakthrough that could change the way aircraft are constructed. Researchers from Monash University, aided by staff from the CSIRO and Deakin University, have printed two […]
As posted by Jesus Diaz  at http://sploid.gizmodo.com/the-secret-engine-technology-that-made-the-sr-71-the-fa-1673510951 On December 17, 1903, the Wright brothers flew the first airplane ever at 6.8 mph (10.9 km/h). Only 61 years and five days later, the Lockheed SR-71 Blackbird took off. It's still the world's fastest airplane with a speed of 2,193 mph (3,530 km/h.) This fascinating video explains its top secret […]
THIRUVANANTHAPURAM: Ever wondered how our mythological superheroes operated those deadly weapons such as agneyastra, varunastra, brahmastra and nagpash? A manuscript found from the collections of Ashtavaidyan Vaidyamadham Cheriya Narayanan Namboodiri, who passed away recently, clearly mentions the mantras to use brahmastra, agneyastra, among others. The 63-folio manuscript in palm leaves, believed to be rewritten about […]
Introducing the 777X The 777X is a twin-engine, twin-aisle success redefined. We like to think of it as the future of flight unfolding. Building on the success of the 777 and 787 Dreamliner, the 777X is the largest and most efficient twin-engine jet in the world. Its folding raked wingtip and optimized span deliver […]
Posted by Vidyasagar Iyer on October 6, 2013
with No Comments
as
bird
,
Design
,
Entertainment
,
flight
,
robot
,
Robotic
,
Shakuna
,
Shakuna Vimana
,
technology
,
TEDTalks
,
Vimana
A robot that flies like a bird – YouTube. Plenty of robots can fly — but none can fly like a real bird. That is, until Markus Fischer and his team at Festo built SmartBird, a large, lightweight robot, modeled on a seagull, that flies by flapping its wings. A soaring demo fresh from TEDGlobal […]