A plan to use enormous balloons to build space stations

THE International Space Station (ISS) is mankind's holiday house in the sky. Like all such houses, it is a luxury item (costing $150 billion and rising). And like many similar projects on Earth, the owners cannot resist tinkering with it. It was in this spirit that, on January 16th, NASA announced that the ISS is to get an extension. This will not, as might have been the case on Earth, be a conservatory or loft conversion. Instead, it will be a BEAM, or Bigelow Expandable Activity Module.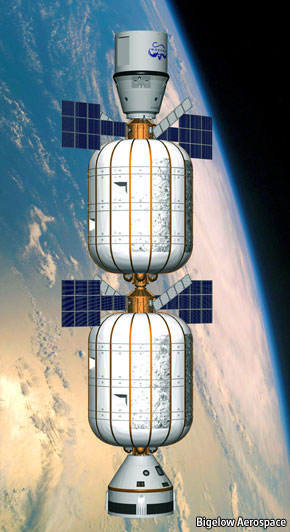 Robert Bigelow, an American hotel entrepreneur and space enthusiast, has for years been pushing the idea that space stations should be made not of metal but of fabric. That would mean they could be folded up for launch and inflated in orbit.
An inflatable space station may sound like the proverbial chocolate teapot, but if you are going to have space stations at all, then inflation is not a bad way of making them. There have been many proposals in the past. Wernher von Braun, the patriotically flexible developer of the V2 military rocket (for Germany) and the Saturn V moon rocket (for America), sketched plans in the 1950s. The Goodyear Aircraft Corporation produced mock-ups in the early 1960s. In the 1980s the Lawrence Livermore National Laboratory came up with a detailed space-exploration plan which relied on inflatable craft, thus quickly attracting the nickname "brilliant condoms". And in the 1990s NASA proposed sending astronauts to Mars in an inflatable craft called TransHab.
Despite the branding possibilities offered by the Livermore version of the idea, Mr Bigelow and NASA prefer the less evocative term "expandable module" in their literature. Regardless of the name, however, making spacecraft and space stations out of fabric offers several advantages over the tin-can approach.
The most important is weight. Inflatable space stations are lighter than metal ones, and even small savings in weight make a big difference to launch costs.
Expandable modules may be safer, too. Ground tests by Bigelow Aerospace, Mr Bigelow's vehicle for his orbital ambitions, suggest that the module's walls—thick sandwiches of exotic fabrics such as Vectran (used in sailcloth and high-strength rope) and Nomex (from which fire-resistant suits are made)—offer better protection than metal ones against impacts from micrometeors and the increasing amount of artificial debris that is in orbit around Earth. They are also less likely than metals to generate dangerous secondary radiation when bombarded with things like cosmic rays. That is one reason why NASA was interested in using inflatable craft for the months-long journey to Mars.
Nor is the idea untested. In 2006 and 2007 Bigelow launched two unmanned versions, Genesis 1 and Genesis 2. BEAM, which will be bolted onto the space station in 2015, if all goes well, will be the last test of the technology before the launch of the firm's intended commercial product, the BA-330. This will offer 330 cubic metres of internal space. At the moment the ISS has a volume of 916 cubic metres. The firm plans to launch two BA-330s in 2016, link them together in orbit, and thus create a station with 70% of the pressurised volume of the ISS for a fraction of the cost.
This first station, dubbed the Alpha Station, will be equipped with laboratory equipment, workbenches and the like. Bigelow hopes to offer 60 days aboard it for around $26m, assuming that its guests make the trip into orbit on one of the cheap rockets provided by SpaceX, another private space company.
Bigelow hopes in particular to win business from governments without big space programmes of their own. To that end it has memoranda of understanding with several, including those of Britain, Japan and the Netherlands. It is also wooing the private sector, though that may prove tricky. There has long been talk of the advantages of "zero gravity" (actually, the continuous free-fall of orbit, rather than the total absence of a gravitational field) for manufacturing specialised materials whose components are of very different densities, and for growing specialised protein crystals for examination by pharmaceutical companies. This was, indeed, one of the sales pitches for the ISS. Unfortunately, the private sector stayed away in droves, and the scientific output of the ISS has been pitiful.
If renting the Alpha Station out as a laboratory does not work, there is always the option of turning it into a holiday house. Given Mr Bigelow's background, it is often assumed that this is the plan anyway. The firm insists that it is not, at least for now. But who will really be interested in paying $26m to go into orbit remains to be seen. Inflated space stations are fine, as long as they do not lead to inflated expectations.