First page of the
Bangalore
archive
Frequent posting on our blog started from a post on Aero India in 2011.
9th International Exhibition on Aerospace, Defence & Civil Aviation – Aero India 2013 Starts on 6thFeb 2013 and is held for 5 Days till 10th Feb 2013.
Aero India has already carved a niche for itself globally as a premier aerospace exhibition, with seven successful editions organized between 1996 and 2011. In Aero India 2011, the participation of exhibitors from 29 countries with 675 companies (380 overseas + 295 domestic) and 47 overseas delegations was accommodated over a gross exhibition area of 75,000 sqm (including outdoor), which was nearly 57% more than the previous edition in 2009. The ninth edition of Aero India will be held at Air Force Station, Yelahanka, near Bangalore from 6 Feb to 10 Feb in 2013. Aero India 2013 will be organised in February 2013 and will provide a significant platform in bolstering business opportunities in the international aviation sector. It is favourably poised an exponential growth over previous edition. A rapidly growing economy, defence preparedness challenges and opening up of defence production to private sector, have given a major fillip to the defence industry in India. It has also become a hub centre for defence business in the Asia region.
General Visitors are allowed on all days with special charges applicable on the day.
Details and registration for General Visitor for Exhibition area and the Air Display Viewing Area (ADVA) are available at the link:
https://www.aeroindia.in/GeneralVisitorExhibitionLandingPage.aspx
Visitors could book tickets at for exhibition and ADVA at :
https://www.aeroindia.in/GeneralVisitorExhibitionRegistration.aspx
If you are bored to view the exhibition and just want to see the air display from close by check in the details here:
https://www.aeroindia.in/GeneralVisitorLandingPage.aspx
You could book for tickets at the below link:
https://www.aeroindia.in/GeneralVisitorRegistration.aspx
For Business Visitors, Aspirants of seminars, etc. Visit the web site https://www.aeroindia.in/Default.aspx  and navigate around, you would find more information too.
I have plans to get there this time too.. If I go, expect another post on it.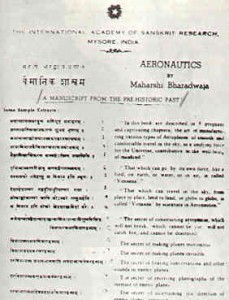 by Enrico Baccarini – T. K. Ellappa was a young draughtsman at an engineering college in Bangalore. We don't know much about him and his life, only that under the direction of Pandit Subbaraya Shastry drawned illustrations for Vaimanika Shastra. That pictures, after, gone under the approval of Sri Subbaraya Shastry on 2nd December 1923 and become the first modern representation of ancient Vimanas.
Ellappa's work is the only known attempt to recreate the contents kept inside Vaimanika Shastra but, at the same time, show to us his effort to be as faithful as possible to the original description. That strain can explain some errors done in the process of drawings Vimanas, but we also keep in mind that Ellappa never seen this object and also Subbaraya Shastry know them only by oral tradition.
The historical period when Vimanika Shastra was dictated by Subbaraya Shastry is between 1918 and 1923. Is G. Shastry Sharma Venkatachala, Pandit's disciple, to became depositary of this knowledge while Ellappa is called to be the drawer of Vimanas.
We are at the beginning of XX century, airplane show their first evolution from wooden's frame to metallic nacelles. The first two decades of XX century is a period where many concepts of Vymanika Sastras are absolutely foreigner to the science and technology of this period, that could be a proof of genuineness of material.
After,  in 1944, a copy of VS was sent to Sanskrit Rajakiya Library of Baroda. The text was then published in Hindi in 1959 and then in 1973 into English by Pandit G.R. Josyer. Ellappa's illustrations were added only in the 1973 edition and were not included in 1959 publication.
Sopwith Swallow – 1918
Fokker E.V – D.VIII – 1918
The above examples show the monoplane model of an aircraft used in 1918. We can easily understand from the outset as the aircraft described in Vymanika Shastra, and designed by Ellappa, are completely anachronistic for the beginning of XX century and even more out of time with aerodynamic shapes in use in that period but even more strange in this XXI century.
We need also to consider that the first flight of the Wright brothers took place only ten years before Ellappa's work and that science was at its infancy.
Although many skeptics claim that writers like Jules Verne or H.G. Wells (consider that the first edition of The War of the Worlds is 1897) had already conceived and realized, through their fantastic novels, total abnormal aircraft, technologies and concepts for their time but nothing could be compared with the Vimanas described in VS.
In India's situation, we speak about aircraft which are described since the very beginning of the history of this country and even more belong their historical collocation not only in the Rig Veda but also in other books like architecture's volumes like Samarangana Sutradhara.
The great fantastical inventions of XX century novels sharply contrasts with the high level of detail and technology described in Vymanika Shastra. One thing it's to invent dreamlike worlds, with none  or almost not technological base, and bring them to public domain other thing is get in your hands a text with an high level of technology that provides scientifically informations, accurate description, tables of the aircrafts and genuine data that just today we started to understand.