First page of the
airplane
archive
Introducing the 777X
The 777X is a twin-engine, twin-aisle success redefined. We like to think of it as the future of flight unfolding.
Building on the success of the 777 and 787 Dreamliner, the 777X is the largest and most efficient twin-engine jet in the world. Its folding raked wingtip and optimized span deliver greater efficiency, significant fuel savings and complete airport gate compatibility. And its GE9X engine is the most advanced, fuel-efficient commercial engine ever.
Performance, however, is just part of the story. The interior of the 777X is inspired by the comforts and conveniences of the 787 Dreamliner and will include larger windows, a wider cabin, new lighting and enhanced architecture — all of which will be custom tailored for a unique 777X experience.
The Future of Flight Unfolding
At Boeing we have always been focused on helping the world's airlines be successful. We know airlines are continually anticipating challenges, perceiving possibilities and lining up opportunities to be successful in the very competitive commercial airline business.
The vital variable they must consider when thinking of long-term future success is the long-haul airplanes that will make up the fleet they operate.
These airplanes must have leading innovation, superior passenger appeal and unrivaled reliability. These airplanes must be ready for tomorrow and the decade beyond. They have to eclipse current efficiency expectations to ensure their success truly takes off. New airplanes that uniquely captivate passengers with a cabin experience so amazing that loyalty soars. And they must be so reliable and tailored to evolving network needs that airline operations can spend less time reacting to problems and more time focused on optimizing their business.
The new Boeing 777X does all of that — exceptionally well. It's designed from the ground up to outperform against every metric, so airlines can rise above their daily revenue and operational challenges to focus on what matters most: securing passenger loyalty and servicing new destinations around the world.
777X Details & Specifications
The 777X will be the largest and most efficient twin-engine jet in the world, with 12 percent lower fuel consumption and 10 percent lower operating costs than the competition.
The 777-9X will have the lowest operating cost per seat of any commercial airplane. It will offer a range of 8,200 nautical miles (15,185 km) and seat more than 400 passengers. The 777-8X will compete directly with the A350-1000 and will boast an incredible range of up to 9,300 nautical miles (17,220 km) with seating for 350 passengers. The 777X is scheduled to enter service in 2020.
Like the 787 Dreamliner which was launched as the 7E7, the 777X will be formally named at a later date.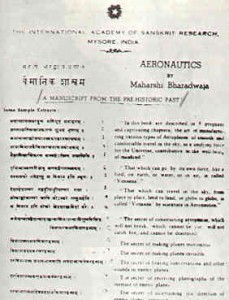 by Enrico Baccarini – T. K. Ellappa was a young draughtsman at an engineering college in Bangalore. We don't know much about him and his life, only that under the direction of Pandit Subbaraya Shastry drawned illustrations for Vaimanika Shastra. That pictures, after, gone under the approval of Sri Subbaraya Shastry on 2nd December 1923 and become the first modern representation of ancient Vimanas.
Ellappa's work is the only known attempt to recreate the contents kept inside Vaimanika Shastra but, at the same time, show to us his effort to be as faithful as possible to the original description. That strain can explain some errors done in the process of drawings Vimanas, but we also keep in mind that Ellappa never seen this object and also Subbaraya Shastry know them only by oral tradition.
The historical period when Vimanika Shastra was dictated by Subbaraya Shastry is between 1918 and 1923. Is G. Shastry Sharma Venkatachala, Pandit's disciple, to became depositary of this knowledge while Ellappa is called to be the drawer of Vimanas.
We are at the beginning of XX century, airplane show their first evolution from wooden's frame to metallic nacelles. The first two decades of XX century is a period where many concepts of Vymanika Sastras are absolutely foreigner to the science and technology of this period, that could be a proof of genuineness of material.
After,  in 1944, a copy of VS was sent to Sanskrit Rajakiya Library of Baroda. The text was then published in Hindi in 1959 and then in 1973 into English by Pandit G.R. Josyer. Ellappa's illustrations were added only in the 1973 edition and were not included in 1959 publication.
Sopwith Swallow – 1918
Fokker E.V – D.VIII – 1918
The above examples show the monoplane model of an aircraft used in 1918. We can easily understand from the outset as the aircraft described in Vymanika Shastra, and designed by Ellappa, are completely anachronistic for the beginning of XX century and even more out of time with aerodynamic shapes in use in that period but even more strange in this XXI century.
We need also to consider that the first flight of the Wright brothers took place only ten years before Ellappa's work and that science was at its infancy.
Although many skeptics claim that writers like Jules Verne or H.G. Wells (consider that the first edition of The War of the Worlds is 1897) had already conceived and realized, through their fantastic novels, total abnormal aircraft, technologies and concepts for their time but nothing could be compared with the Vimanas described in VS.
In India's situation, we speak about aircraft which are described since the very beginning of the history of this country and even more belong their historical collocation not only in the Rig Veda but also in other books like architecture's volumes like Samarangana Sutradhara.
The great fantastical inventions of XX century novels sharply contrasts with the high level of detail and technology described in Vymanika Shastra. One thing it's to invent dreamlike worlds, with none  or almost not technological base, and bring them to public domain other thing is get in your hands a text with an high level of technology that provides scientifically informations, accurate description, tables of the aircrafts and genuine data that just today we started to understand.